General Internal Medicine
Overview
To meet the medical needs of people in the main urban area, the department was established after the construction of Binjiang Campus. The department has 42 in-patient beds and 8 specialists, including 1 chief physician, 1 deputy chief physician, 4 attending physicians, and 2 resident physicians. All of the doctors had master's or / and doctor's degree in the department. After five years of development, it has distinct characteristics and outstanding advantages in the diagnosis and treatment of various infectious diseases in children. It is the lead writer institution of two national expert consensus, "Recommendations for the diagnosis and treatment of Haemophilus influenzae infection in Children in China", and "Recommendations for the diagnosis and prevention of pneumpcoccal disease in children in China", the coauthor institution of the guideline "Diagnosis and treatment of pediatric pertussis in China".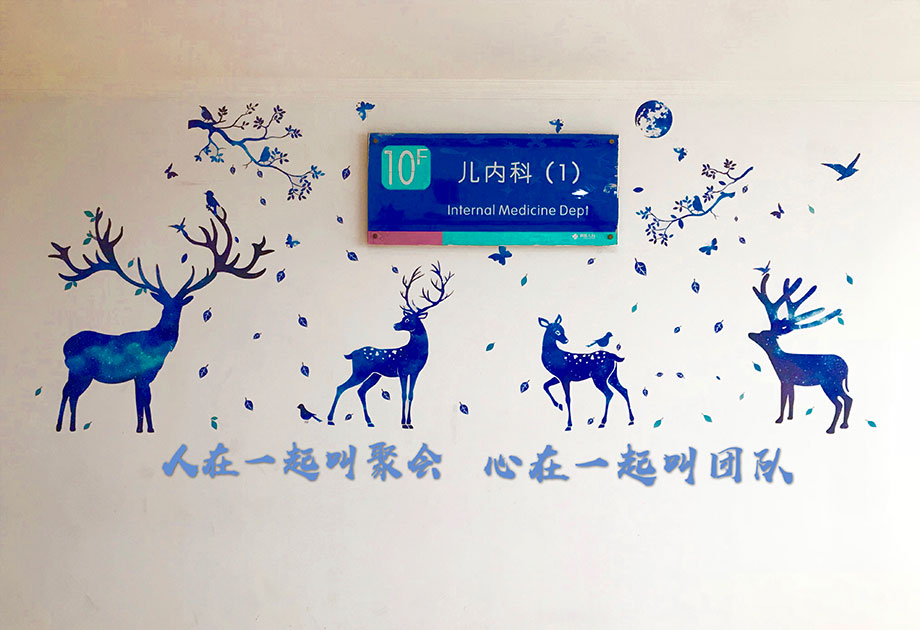 Service
The department accepts and treats various pediatric medical diseases, including pneumonia, EB virus infection, streptococcal infection, salmonella infection, whooping cough syndrome, sepsis, suppurative meningitis, cytomegalovirus infection, fever to be investigated, and rash diseases.

Professional Features
The discipline team in the department has long been engaged in the research on the etiology and antibiotic-resistance of bacteria causing infectious diseases, emphasizing on the standardized and reasonable application of antibacterial drugs. It has rich clinical experience in the diagnosis and treatment of pneumonia, sepsis, streptococcal infection, EB virus infection, cytomegalovirus infection, whooping cough or whooping cough syndrome, salmonella infection, Haemophilus influenzae infection, and various rash diseases in children.
In the course of scientific research, doctors in the department have found that certain β-lactam antibiotics could treat pediatric pertussis effectively. The team promoted a brand new therapeutic strategy by using traditional medicine to treat the ancient disease of pertussis, and solved the problem in treating pertussis caused by macrolides-resistant isolates. Providing a good alternative measure for the patients, the treatment plan has been promoted province-wide and has produced good clinical effects.

Research
The department has presided over one National Natural Science Research Fund, five provincial and ministerial projects, published more than 10 SCI papers, and more than 130 domestic core journal papers. It led a Multicenter Study on antibiotics-resistance of Haemophilus Influenzae isolated from children inChina and has build a national platform for antibiotics-resistance surveillance.
In the field of pertussis research, it is one of the few domestic units that could cultivate Bordetella pertussis, and it found that the strain had a high resistance rate to the traditional therapeutic drug, erythromycin, and some β-lactams were effective in treating pertussis in children. It has formed an effective therapeutic regime and was considered as a model for treating pediatric whooping cough syndrome / whooping cough. It sets a precedent for the therapy of pediatric pertussis using β-lactams in China, which has produced good social benefits.

Expert Team
| No. | Name | Academic Rank |
| --- | --- | --- |
| 1 | | Chief Physician |
| 2 | | Associate Chief Physician |
| 3 | | Associate Chief Physician |