PICU
Overview
Separated from NICU, PICU was established in 2006 and was included in first batch of the National Key Clinical Specialty (Pediatric Critical Care) in 2010. It has an excellent team of more than 20 doctors and more than 50 nurses, including 3 chief physicians and 2 associate deputy chief physicians; 2 associate deputy chief nurses and 30 supervisor nurses, including 1 master's tutor, 2 of them with doctoral degree and17 with master degree. With 40 beds, it receives more than 2,000 critically ill patients every year, with a rescue rate of more than 95%.
The department is equipped with advanced medical equipment, including advanced vital sign central monitoring system, extracorporeal membrane oxygenation (ECMO), high-grade normal and high frequency ventilator, continuous blood purification therapy instrument, blood perfusion instrument, fiber bronchoscope, NICOM and PICCO , bedside ultrasound, brain oxygen monitor, 24-hour integrated EEG monitor, to ensure that critically ill children receive the best monitoring and treatment. It is at the domestic leading level in the treatment of pediatric cardiopulmonary resuscitation, various types of shock, multiple injuries, severe sepsis, severe pneumonia, ARDS, fulminant myocarditis, various poisonings, and multiple organ failure.
As a standing director unit of emergency medicine of Chinese Academy of Pediatrics, it undertakes the training of domestic pediatric intensive care personnel, keeps academic exchanges with many domestic and foreign children's hospitals, organizes international pediatric advanced life support training courses to nurture pediatric talents in emergency medicine across the country, including pediatric fundamental critical care support course collaborated with Society of Critical Medicine of America.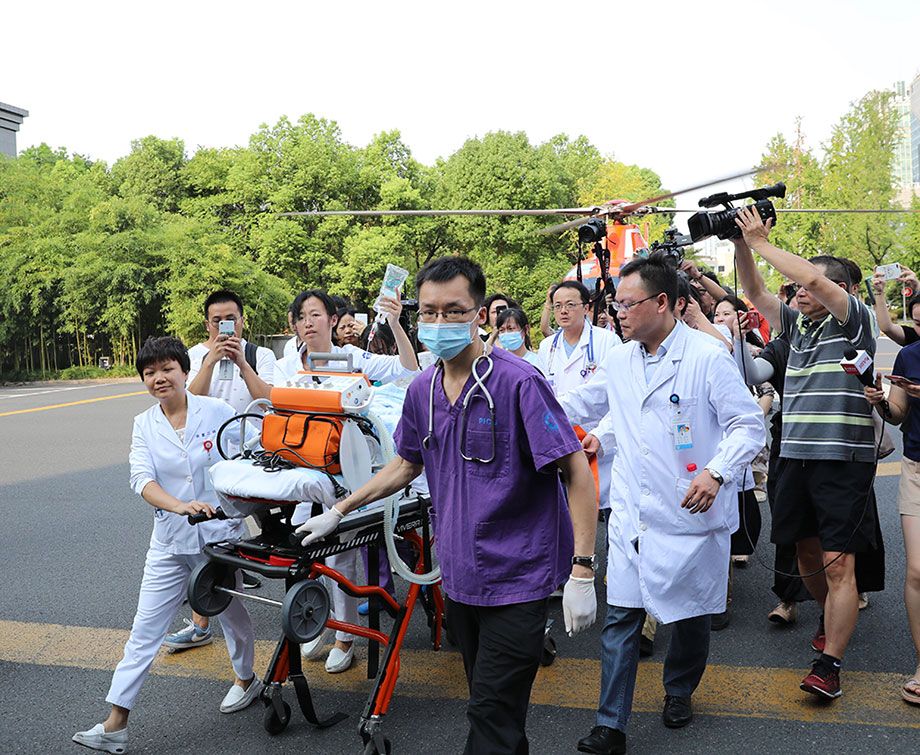 Service
A series of advanced diagnosis and treatment technologies were conducted at PICU:
(1) Assisted mechanic ventilation (including neurally adjusted ventilator assist (NAVA), high-frequency concussive ventilation), PICCOPICOO cardiac output monitoring, NICOMNICON non-invasive cardiac output monitoring, extracorporeal membrane oxygenation(ECMO), temporary cardiac pacing, continuous blood purification, plasma exchange, blood perfusion, immunoadsorption, peritoneal dialysis, bronchoalveolar lavage, bone marrow infusion, tracheotomy, metabolic and nutritional support for critically ill patients, cardiopulmonary and cerebral resuscitation after cardiopulmonary arrest, mild hypothermia therapy, 24-hour brain function monitoring, arterial blood pressure monitoring, central venipuncture, pleural cavity puncture, etc.
(2) Severe sepsis, severe pneumonia (including ventilator-associated pneumonia), ARDS, severe asthma, severe hand-foot-mouth disease, fulminant myocarditis, severe congenital heart disease with heart failure, various severe , severe hepatitis with liver failure, severe congenital heart diseases with heart failure, various severe arrhythmias, severe hepatitis with liver failure, severe pancreatitis, severe encephalitis, brain stem disease, Reye's syndrome, severe Guillain-Barre syndrome, haemophilia syndrome and various types of shock (especially septic shock, anaphylactic shock), various accidental injuries (trauma, drowning, trauma, poisoning), multiple organ failure (respiratory failure, heart failure, liver failure, kidney failure), various serious electrolyte disorders and other diseases.

Professional Features
The department is one of the largest and advanced professional pediatric critical care centers in China. It takes the leading position in the field of pediatric cardiopulmonary resuscitation, various types of shock, severe sepsis, severe pneumonia, ARDS, and acute poisoning, especially the application of extracorporeal membrane oxygenation to treat refractory cardiopulmonary failure, which has reached the international leading level, and the rescue rate of ECMO has reached more than 80%. The technology has been successfully used to treat patients with fulminant myocarditis, ARDS, severe anaphylactic shock, septic shock, etc. It is one of the earliest centers in China to use continuous blood purification technology, which has successfully rescued a large number of patients with acute renal failure, acute liver failure, acute pulmonary edema, severe sepsis, severe hand-foot-mouth disease, severe allergic diseases, and paraquat and other severe poisoning.
The center is responsible for the rescue and consultation of critically ill patients with infectious diseases in Zhejiang Province. In recent years, more than 200 cases of critical hand-foot-mouth disease, 150 cases of severe influenza and cases of adenovirus pneumonia and COVID-19 infection have been successfully treated. In 2011, the department successfully rescued the girl Niu Niu who fell off the tenth floor. Five children who were severely burned in traffic accidents were successfully rescued. In 2017, the transfer of critically ill patients was started, and more than 100 critically ill children were transferred from the province and surrounding provinces every year, In 2018, helicopter was used to transfer patients and patients with ECMO were successfully transferred, the success rate of which reached 100%.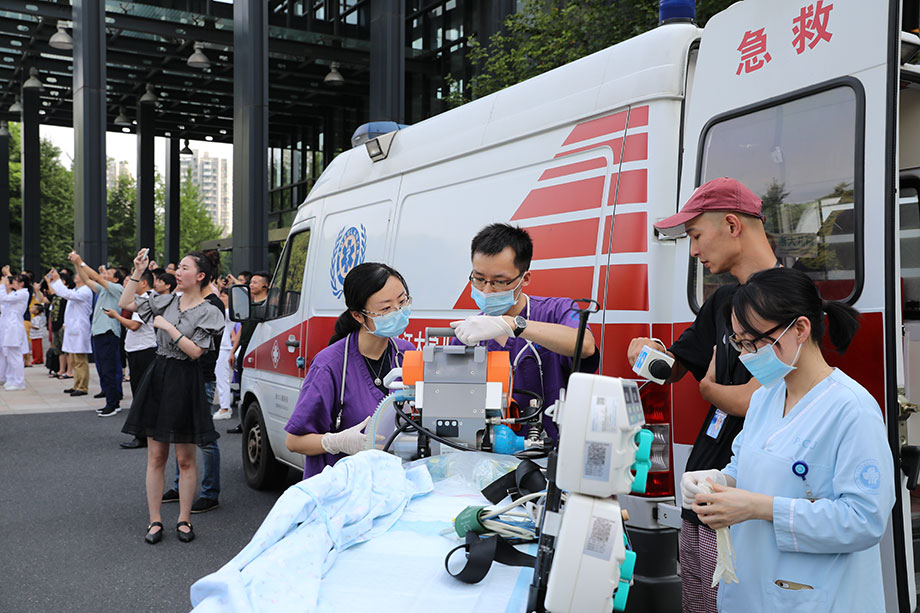 Research
PICU focuses on multiple clinical problems in children with critical illness, including the treatment of severe sepsis, rapid detection of pathogens of severe respiratory infections, clinical warning of severe respiratory syncytial virus infection, comprehensive diagnosis and treatment of critical hand-foot-mouth disease, and pediatric ECMO critical treatment. It has obtained 2 National Natural Science Foundations, National Key Clinical Specialty Construction Funds, 1 Major Scientific Research Project of Zhejiang Provincial Science and Technology Department, 2 Zhejiang Natural Science Foundation and more than 10 other bureau-level projects, and 7 million RMB project fund was approved. Multi-center research on CRRT technology applied in pediatric sepsis, non-invasive ventilator treatment of respiratory failure, and status epilepticus was conducted in many provinces.
In the past 5 years, PICU has participated in the edit of 3 books (Hand, Foot and Mouth Disease, Pediatric Mechanical Ventilation, Blood Purification in Critically Ill Patients), taken the lead in formulating pediatric critical illness diagnosis and treatment guidelines and 6 items of expert consensus, published more than 100 high-quality clinical research papers, including more than 20 SCI papers and more than 50 papers in domestic first-level journals. As one of the technology transformation teams for the diagnosis and treatment of children's major diseases in Zhejiang Province, the center holds the Zhejiang Pediatric Emergency Medicine Group Meeting,National training courses for "Pediatric Advanced Life Support", Pediatric Emergency Care Progress, "PFCCS", "Pediatric Blood Purification" and "Pediatric Intensive Care Specialist Nurse" every year. Also, each year it receives more than 300 trainees from inside and outside the province, and undertakes the training of advanced doctors from all over the country.

Expert Team
| No. | Name | Academic Rank |
| --- | --- | --- |
| 1 | | Chief Physician |
| 2 | | Chief Physician |
| 3 | | Associate Chief Physician |
Read More