Stomatology Department
Overview
Stomatology Department was established in 1986. Relying on National Clinical Research Center for Child Health, the department is actively involved in clinical, basic, teaching and scientific research in pediatric stomatology. It has become the largest provincial pediatric stomatology demonstration base in Zhejiang province, and pediatric stomatology is approved as a future key subject of Zhejiang Health Commission. The department is a national base for standardized training of dental residents with 100% completion rate. Many famous scholars at home and abroad are invited to give lectures for participants from all over the country who attend national-level continuing education classes every year.
Both clinics in Hubin and Binjiang Campus are equipped with advanced oral diagnosis and treatment facilities, such as the American A-dec oral comprehensive treatment chair, the German MELAG autoclave, the Finland PLAMECA curved tomography and the CBCT machine and large ultrasonic cleaning machine.
The department has more than 62,000 annual outpatient visits, covering the diagnosis and treatment of dental caries,dental pulp disease, periapical disease,periodontal diseases, oral mucosal diseases, childhood dentition and gap management, pediatric oral and maxillofacial trauma of soft and hard tissues, etc.
There are 30 doctors, nurses and technicians in the department, including two chief physicians (one is master degree supervisor), one associate chief physician who is master student supervisor, and 8 fellows. Many members in the department have been trained in School of Dentistry of Georgia Regents University, Loma Linda University School of Medicine, Peking University, Wuhan University, The Fourth Military Medical University and other schools. The department is a member of the standing committee of Pediatric Stomatology Committee of Chinese Stomatological Association, the deputy leader of the Stomatology Group of Pediatric Branch of the Chinese Medical Association, the executive director of the Zhejiang Provincial Stomatological Association, and the chairman of Zhejiang Provincial Stomatological Association. Some stomatologists are members of Pediatric Stomatology and Orthodontics Specialty of Chinese Stomatological Association, World Federation of Orthodontics(WFO) and International Association of Pediatric Dentist(IAPD).

Service
(1) Diagnosis and treatment of caries, dental pulp disease, periapical disease, periodontal disease, and abnormal tooth development in children;
(2) Prevention of dental caries of primary and permanent teeth (fluorine protective paint, fissure sealing, etc.);
(3) Diagnosis and treatment of deciduous teeth and permanent teeth trauma;
(4) Early correction of various malformations in childhood, blocking treatment of various bad oral habits, and bite induction and gap management in childhood;
(5) Infant oral mucosal disease: aphthous ulcers, mouth ulcers, herpes gingival stomatitis, map tongue, cheilitis, etc.;
(6) Diagnosis and treatment of recurrent mumps in childhood;
(7) Outpatient surgical treatment of abnormal lip and tongue laces, small oral masses, gingival tumors, etc.;
(8) Diagnosis and treatment of various oral and maxillofacial injuries and oral and maxillofacial infections;
(9) Diagnosis and treatment of oral manifestations of genetic diseases and syndromes.

Professional Features
(1) Standardized diagnosis, treatment and comprehensive prevention of caries in young children;
(2) Early correction and early intervention and treatment of various malocclusions in childhood, in particular, early correction techniques for Class Ⅲ malocclusion;
(3) Diagnosis and treatment of recurrent mumps in childhood;
(4) Serial treatment of young permanent teeth trauma, anterior teeth broken crown bonding, cosmetic restoration and other technologies;
(5) Dental treatment for special children: dental treatment of children with genetic diseases and severe systemic diseases, such as ectodermal dysplasia, anti-vitamin D rickets, diseases of blood system, etc.;
(6)Comfortable treatment of pediatric oral diseases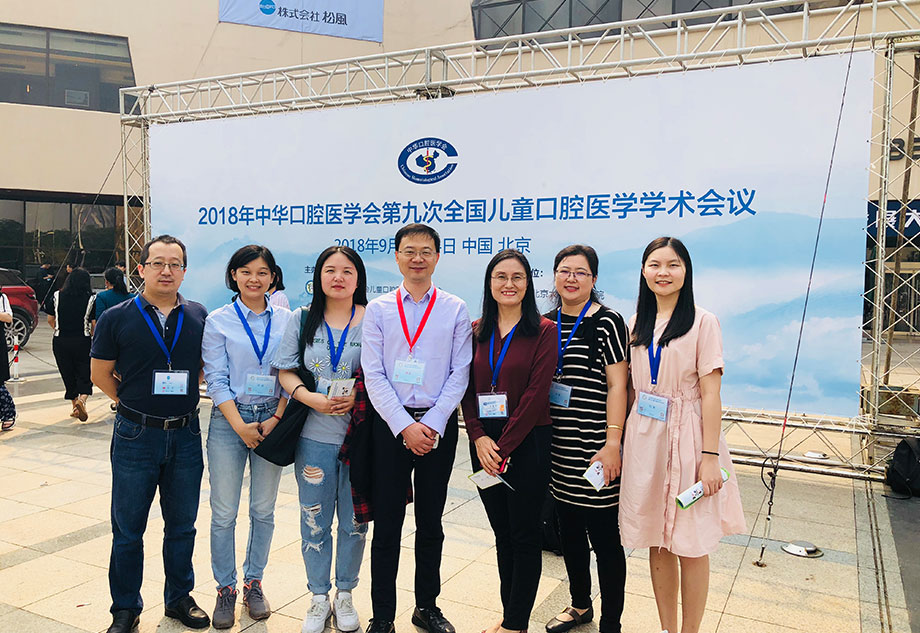 Research
12 projects such as the Zhejiang Natural Science Foundation have been conducted, and more than 70 papers have been published in domestic and foreign journals, including over 20 papers in SCI, and 8 national patents. The department has in-depth research in the mechanism and comprehensive treatment of Class Ⅲ malocclusion malformation, caries and oral microecology in young children, etiology and clinical treatment of recurrent mumps in children, tooth development in children with precocious puberty, ultrastructure of teeth in children with anti-vitamin D rickets, temperament characteristics and children's oral behavior management, tooth regeneration and restoration, etc.

Expert Team
| No. | Name | Academic Rank |
| --- | --- | --- |
| 1 | | Chief Physician |
| 2 | | Chief Physician |
| 3 | | Chief Physician, Master student supervisor |