Anesthesia & Operation Center
Overview
Anesthesia Surgery Center is composed of anesthesiology department and the operating room. Anesthesiology department is the first batch of national-level standardized training bases for resident physicians, the first batch of national-level training bases for pediatric anesthesiologists, as well as the first domestic clinical trial base, innovative disciplines in Zhejiang Province, Pediatric Anesthesia Training Base of Chinese Medical Association Anesthesiology, and Pediatric Comfortable Medical Training Base of Chinese Medical Association Anesthesiologist Branch. There are 128 staff members in the center, including 55 anesthesiologists and 73 nursing staff, among whom there are 8 deputy chief physicians, and 4 with doctor's degree and 1 master tutor. At present, there are 25 operating rooms in both Binjiang and Hubin campuses, which are equipped with integrated operating rooms, digital operating rooms, microscopes, ultra-high-definition endoscopic systems and Robert Da Vinci XI. The number of pediatric anesthesia, the type of surgery and the degree of difficulty of anesthesia in the center are at the forefront of the country, with an annual total of more than 40,000 cases. Each year, more than 50 residents and fellows of Pediatric Anesthesia from all over the country were trained in the department. It has undertaken more than 20 national, provincial, and bureau-level research projects including 5 National Natural Science Funds. It has published more than 100 academic papers, including more than 20 SCI papers.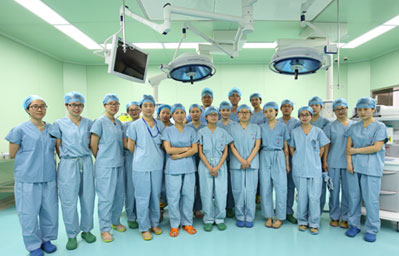 Service
(1) Responsible for the anesthesia and rescue treatment of critically ill patients in the operating room;
(2) Carry out anesthesia for cardiac surgery, thoracic surgery, neonatal surgery, general surgery, urology, orthopedics, scald orthopedics, neurosurgery, trauma surgery, otolaryngology, ophthalmology, tumor surgery, cardiac catheterization, etc. The total amount of anesthesia cases is more than 40,000 every year.
(3) The anesthesiology clinic, painless endoscopy, and sedation center are set up to enhance pediatric comfortable medical treatment;
(4) Carry out multi-model postoperative analgesia, including self-controlled analgesia , to actively promote pediatric enhanced recovery after surgery;
(5) Provide analgesic treatment for patients in related departments to relieve the pain of children;
(6) Carry out central catheterization of deep veins to save lives of critically ill children;
(7) Participate in the rescue and resuscitation of critically ill children of hospital.

Professional Features
The department has rich experience in anesthesia management of complex congenital heart diseases, neonatal surgery, and endoscopic minimally invasive surgery. It completed anesthesia for complex congenital malformations such as TGA, pulmonary artery slings, ectopic drainage of pulmonary veins, and abnormal coronary origin. The department successfully performed anesthesia for congenital heart disease of 1.1kg infant, completed anesthesia for premature infants with a minimum weight of only 0.61kg, reaching the domestic advanced level. It carries out anesthesia for ligation of PDA ligation in very low-weight preterm infants, non-intubation thoracoscopic surgery anesthesia, awaken anesthesia during spinal orthopedics and anesthesia for thoracic and abdominal perineal conjoined twin, live liver transplantation in children, and Budd-Chiari syndrome. The department also carries out autologous blood transfusion technology, pediatric one-lung ventilation technology, BIS anesthesia depth monitoring, auditory evoked potential monitoring, transbronchial fiberoptic bronchoscope intubation, video laryngoscope tracheal intubation, ultrasound-guided nerve block, ultrasound-guided vascular puncture catheterization, muscle relaxation monitoring, respiratory mechanics monitoring, body temperature monitoring, blood transfusion and infusion heating technology, body surface insulation, etc. to guarantee the perioperative safety of patients.

Research
The department focuses the research on the neurotoxicity of general anesthetics and their effects on pediatric cognitive function, the organ protective effect of inhaled anesthetics, the perioperative management of pediatric anesthesia, the clinical and basic aspects of sepsis lung injury and stem cell therapy, etc. More than 20 projects at the provincial level, including 5 projects of National Natural Foundation of China, have been conducted. Over 100 academic papers have been published, including 20 SCI papers. And several multi-center clinical trials of narcotic drugs have been carried out in the department. The department has participated in several monographs, including Pediatric Anesthesia Handbook, Practical Pediatric Anesthesia Technology, Pediatric Anesthesiology Progress, Local Anesthesiology, Pediatric Anesthesia Practice (Fourth Edition), Pediatric Pain Science, Monograph on Advanced System of Anesthesiology-Pediatric Anesthesia, etc. and the preparation of multiple guidelines and consensus. The anesthesiology team cooperates with the "OPERATION SMILE" foundation in the United States to be volunteers. Several national and provincial continuing education programs for pediatric anesthesia and pediatric advanced life support (PALS) have been conducted for many years.

Expert Team
| No. | Name | Academic Rank |
| --- | --- | --- |
| 1 | | Associate Chief Physician |
| 2 | | Associate Chief Physician,Master's Tutor |
| 3 | | Associate Chief Physician |
Read More