Neurosurgery Department
Overview
The Neurosurgery Department was founded in 1990s and is one of the earliest neurosurgery departments in children's hospitals in China. It has become a discipline with a certain scale, strong technical force, and excellent equipment specializing in the diagnosis and treatment of pediatric neurosurgery diseases, reaching the forefront of domestic children's hospitals.
There are currently 12 neurosurgeons, including 3 vice chief physicians, 5 attendings and 4 residents, among them 1 with doctorate and 11 with master's degree. The department has set up 40 beds for sub-specialties including CNS tumors, congenital malformations, cerebrovascular diseases, functional neurosurgery, craniocerebral trauma and comprehensive treatment of tumors, and is equipped with advanced medical instruments to meet the current domestic demand for cutting-edge diagnosis and treatment of pediatric neurosurgical diseases, such as Leica surgical microscope, Medtronic neuronavigation system, Valleylab ultrasound aspirator, Nicolet intraoperative EEG monitoring system, Synthes craniotomy power system, Aesculap intraocular speculum, Aesculap electrocautery, DORO head frame, DORO brain retractor and various imported surgical instruments, reaching domestic advanced level.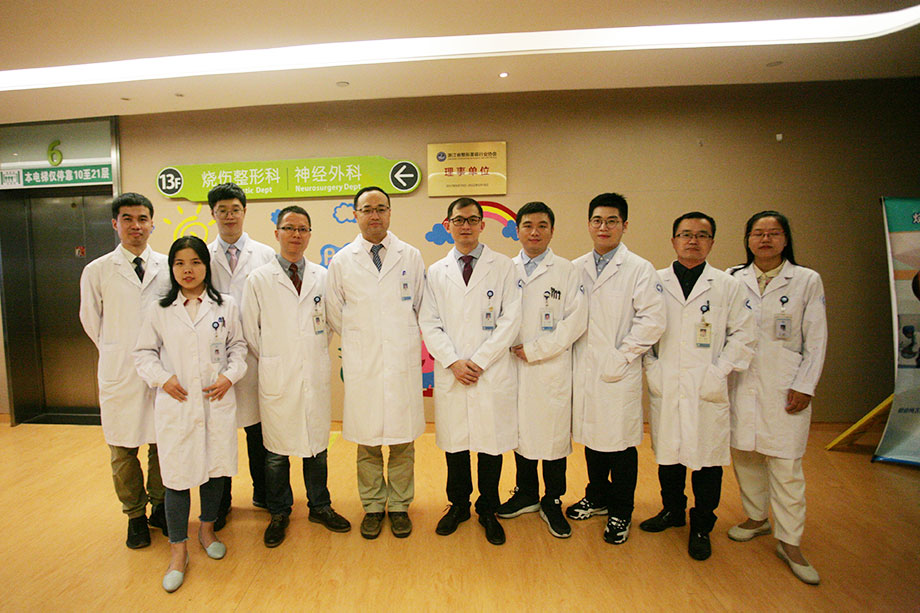 Service
(1) Central nervous system tumors, craniocerebral trauma, congenital malformations of nervous system (such as hydrocephalus, tethered cord syndrome, arachnoid cysts, craniosynostosis, etc.), refractory epilepsy, cerebrovascular diseases, etc.
(2) Other pediatric neurosurgery related diseases.

Professional Features
The department is the pediatric neurosurgery center of Zhejiang Province and has formed a complete and effective treatment model in the diagnosis, treatment and research of pediatric neurosurgery diseases, striving to be in line with international standards.

Research
The department is undertaking several scientific research projects of Health Commission of Zhejiang Province. 10 SCI papers have been published in recent 10 years.

Expert Team
| No. | Name | Academic Rank |
| --- | --- | --- |
| 1 | | Associate Chief Physician |
| 2 | | Associate Chief Physician |
| 3 | | Associate Chief Physician |