Genetics & Metabolism Department
Overview
Department of Genetics and Metabolism was formally founded in 2010, whose predecessor was Screening Department built in 2003. Newborn Disease Screening Center was approved by Zhejiang Provincial Health Commission and the Demonstration Base for Children's Genetic Metabolic Disease Relief designated by China Birth Defect Relief Foundation. The department is composed of 46 professional physicians and technicians including 5 chief physicians and 4 associate chief physicians, 8 of them with doctoral degree and 15 with master degree.
The neonatal screening rate and volume of genetic metabolic diseases are at top of the country. The application of tandem mass spectrometry technology in neonatal screening of genetic metabolic diseases ranks first in China. The established "Zhejiang Model" for neonatal screening of genetic metabolic diseases has served as a template and leading role in nationwide newborn screening. Hundreds of professionals in neonatal screening, diagnosis and treatment of genetic metabolic diseases have been trained.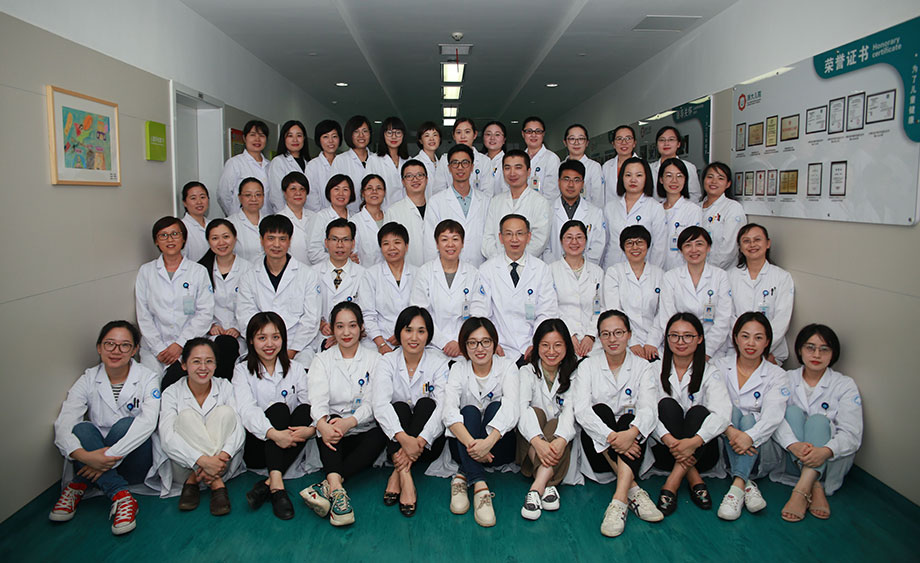 Service
(1) The department has established a relatively complete diagnosis and treatment platform for pediatric genetic diseases. It has set up the genetic and metabolic clinics, special clinic for congenital myopathy and a multi-disciplinary team (MDT) for birth defects and rare diseases, which can provide high-level services of screening, diagnosis and treatment for pediatric hereditary and metabolic diseases.
(2) The largest cohort of genetic and metabolic diseases in the country has been established. More than 13,000 neonatal cases with genetic and metabolic diseases including congenital hypothyroidism, phenylketonuria, congenital adrenal hyperplasia, glucose-6-phosphate dehydrogenase deficiency and a variety of treatable genetic metabolic diseases such as abnormal metabolism of amino acids, fatty acids and organic acids have been diagnosed. The vast majority of children avoid disabilities through timely diagnosis and treatment.

Professional Features
The department is equipped with advanced automatic fluorescent immunoassay analyzer, time-resolved immunofluorescence analyzer, tandem mass spectrometer, gas chromatography mass spectrometer and amino acid analyzer, etc. It has established an "integrated genetic testing platform", including high-tech technologies such as "chromosomal microarray chips, high-throughput sequencing, Sanger sequencing, MLPA testing, Q-PCR testing, FISH analysis", therefore, it can carry out multiple projects such as single-gene testing, panel testing for specific diseases, clinical exome testing, whole exome testing, whole-genome copy number testing, etc., which can meet the genetic testing needs of different specialties.
The department was approved as a model national international scientific and technological cooperation base "International Cooperation Base on Diagnosis and Treatment of Birth Defects" in 2018, and was awarded the "Yangtze River Delta Rare Disease Experimental Diagnosis Collaboration Center" in 2019. There is extensive cooperation with well-known universities such as Emory and Stanford in the United States.

Research
The department is deputy director of Birth Defect Prevention and Control Professional Committee of China Preventive Medicine Association, director of Neonatal Genetic Metabolic Disease Screening Group of China Preventive Medicine Association, and chairman of Children's Genetic Metabolic Disease Relief Expert Committee in China Birth Defect Relief Foundation. As members of Newborn Screening Expert Group of National Health Commission, several experts in department have participated in the revision of Newborn Disease Screening Management Measures, National Newborn Disease Screening Work Plan and Newborn Disease Screening Technical Specifications, and have written and participated in the formulation of expert consensus on screening, diagnosis and treatment of multiple genetic metabolic diseases in China.
The department has successfully hosted 8 national seminars on neonatal genetic metabolic disease screening for 20 consecutive years, and co-sponsored the 10th International Conference on Newborn Screening and the 11th Asia-Pacific Regional Conference with International Society for Newborn Screening.
The department has made continuous breakthroughs in basic and applied research of neonatal disease screening. It has successively won the Song Chingling Pediatric Medicine Award, First Prize of Zhejiang Provincial Science and Technology Progress Award, First Prize of Zhejiang Medicine and Health Science and Technology Innovation Award, China Preventive Medicine Association Science and Technology Award, Science and Technology Achievement Award and Outstanding Contribution Award of China Birth Defect Intervention and Relief Foundation. It has presided 1 project of the 11th Five-Year National Science and Technology Support Plan, 2 key special projects of the 13th Five-Year National Key Research and Development Plan "Research on Prevention and Control of Reproductive Health and Major Birth Defects",
and participated in many key special projects of "Research on Prevention and Control of Major Birth Defects". There are 2 grants from National Natural Science Foundation of China. At the same time, the country's first provincial and local standard "Comprehensive Prevention of Birth Defects" was formulated, and it won Zhejiang Provincial Standard Innovation Award for Major Contribution in 2018. More than 100 relevant important papers have been published, of which more than 60 have been included in SCI. This department has independently developed information management software for screening system, and obtained multiple national copyrights and patents.

Expert Team
| No. | Name | Academic Rank |
| --- | --- | --- |
| 1 | | Chief Physician |
| 2 | | Chief Physician, Professor |
| 3 | | Chief Physician |
Read More