ZUCH Passed the Review of Level A Tertiary Hospital
30/09/2020
International Affairs Office
On the afternoon of September 30, the feedback meeting of the review of level A tertiary hospital was held on Binjiang Campus of the Children's Hospital Zhejiang University School of Medicine. After 4 days of meticulous and comprehensive on-site inspection by experts of the assessment team, ZUCH successfully passed the review of Level A Tertiary Hospital with high grades.
This re-evaluation is a "big exam" for the hospital after ten years. The review team was led by Zhang Wanen and Hong Chaoyang, gathering experts in various fields including management, medical care, nursing, child care, pharmaceuticals, and hospitality. During the 4-day review period, the expert team visited various departments 183 times, interviewed 1,025 persons, inspected 317 sets of equipment, inspected 95 medical records, 381 prescriptions, and tested 5 emergency drills.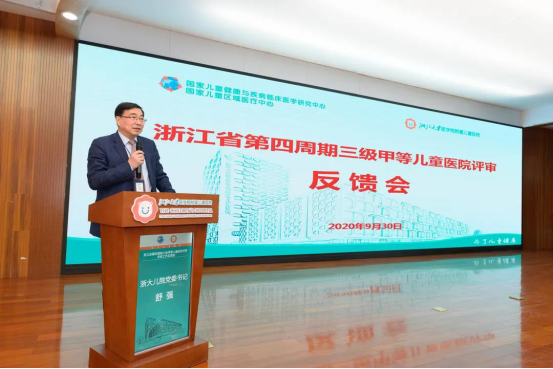 At last, Shu Qiang, the Secretary of the Party Committee of the hospital, made a statement on behalf of the hospital. He said, "This review is not only very necessary, but also very timely, which will greatly promote the future development of the hospital. The hospital will definitely take this review as an opportunity to improve medical quality and upgrade hospital management. "