The First International MDT Consultation in Rheumatic Diseases Conducted between ZUCH & BCH
26/02/2021
International Affairs Office
The first international multidisciplinary team (MDT) consultation in rheumatic diseases between our hospital and Boston Children's Hospital was conducted successfully on February 10th 2021. The participants included Prof. Craig Platt from Immunology and Prof. Pui Lee from Rheumatology of Boston Children's Hospital, Dr. Lu Meiping, director of the Department of Rheumatology and her clinical team, as well as Prof. Tang Yongmin and Dr. Xu Xiaojun from the Hematology/Oncology Department.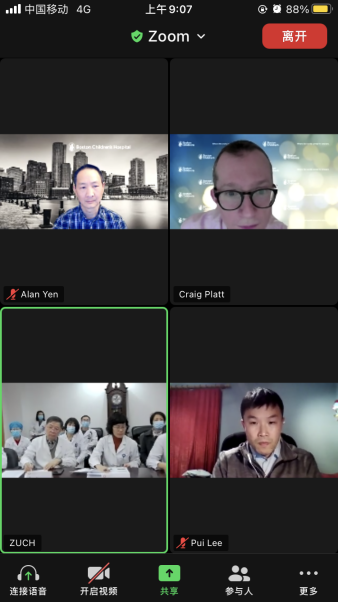 In order to provide a better treatment option for the children and their families, ZUCH and BCH have developed the patient care case conference program using internet-based video conference system. This time, the Rheumatology and Immunology Department presented two complicated cases for discussion. Two clinicians in Rheumatology and Immunology field from BCH participated in this MDT consultation under the great support of Boston Children's Hospital. In one case a patient was suffering from juvenile dermatomyositis with positive anti-NXP2 antibody, and had severe muscle weakness and progressing interstitial lung disease. In another case a patient had a chronic Epstein-Barr virus infection and complicated large coronary aneurysm with recurrent liver dysfunction and inflammation. During the conference, teams from both hospitals discussed the disease profile, treatment plan, prognosis of the disease, long-term observation and reached a consensus.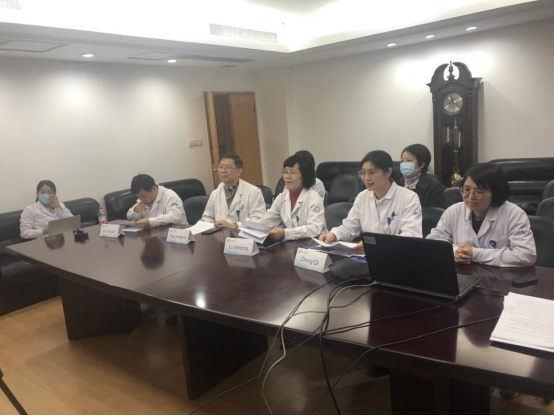 "It was wonderful that the MDT teams from ZUCH and BCH met through online video conference and discussed solutions to improve patient medical care and to change patient outcomes. We are grateful for the learning and sharing opportunity provided by BCH. We hope that we can carry out long-term and regular case conferences with rheumatology and immunology experts of Boston Children's Hospital in the future," says Dr. Lu Meiping.
By Dr. Zheng Qi
Department of Rheumatology, Immunology and Allergy